The TVGuardian monitors the hidden closed-captioning signal and compares those words to its database of offensive words and phrases. When an offensive word is detected it mutes the sound for the sentence and displays a replacement text on the screen.
TVGuardian 501HD Demo Video (Please note, you will hear the 'S' word).


Easily connects between your HD TV and:
HD Satellite or HD Cable
U-verse, FiOS
1080p Upconverting DVD Player
Tivo HD with cable or over-the-air HDTV
Blu-Ray Player (to play DVDs and some Blu-ray movies that have closed-captioning)
Features of the TVGuardian 501HD:
HDTV and Home Theater Support

Up to 1080p Resolution (depending on video source)

Choose from four different quick-change Audience Settings allowing you to set different sensitivity settings.

Kids, Family, Parents, and Other.

Optional Password Protection to protect the settings.
Three Closed-caption Settings to control how the closed-caption text is displayed.
No Annual or Reoccurring Fees
45 Day Satisfaction Guarantee
One Year Limited Warranty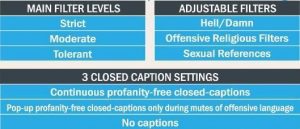 Includes:
TVGuardian HD Model 501
One DC Adapter
Remote Control
3′ HDMI Cable
Two AAA batteries for the remote.
User's Manual or Quick Start Guide

Installation:
The TVGuardian HD hooks into your home entertainment system right before the TV. It connects between your tuner (cable box or satellite receiver, etc.) and the TV.

Input Connections
Two HDMI Audio/Video Input Connections
Two Toslink Digital (Optical) Audio Input
Two Yellow (Composite Video) ports. This connection is REQUIRED for the TVGuardian to detect the closed-captioning and filter the language. Your Tuner, DVD Player, Satellite Receiver, or other sources must have and use the Composite Video output.
Output Connections
One HDMI Audio/Video Output Connection
One Toslink Digital (Optical) Audio Output
For additional information on installation and easy-to-follow videos, see the TV Guardian HD 501 Support Page.
**Save on our manufacturer refurbished units. Same warranty as new and fully tested.**
Please take a look at all the information about the TVGuardian and understand its features and limitations. Also, remember we offer a 45-day money-back guarantee.