Shop TVGuardian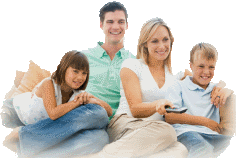 The TVGuardian automatically detects and filters profanity and other offensive phrases while you watch movies or television shows.  TVGuardian is like a smart remote control for your TV that automatically mutes foul language!  See the demo video.
The TVGuardian LT is the newest model to the TVGuardian family. The LT works with Standard Definition and High Definition TVs and uses the same filter as other TVGuardian models at a fraction of the cost.
The TVGuardian 501HD is at the top of the TVGuardian family. The 501HD is easy to setup and will work in your High Definition entertainment configurations.
The TVGuardian 401SD is a discontinued model that is no longer in production, but works with RCA connections (not HD or HDMI).  Once these units are gone, they wont be coming back.  Get them while you can!
Take advantage of our 45-day Satisfaction Guarantee, 12 Month Warranty,
Free Technical Support, Free Budget Shipping (to most areas)!
**All current TVGuardian models and accessories can be purchased below or from our authorized sellers HERE.**